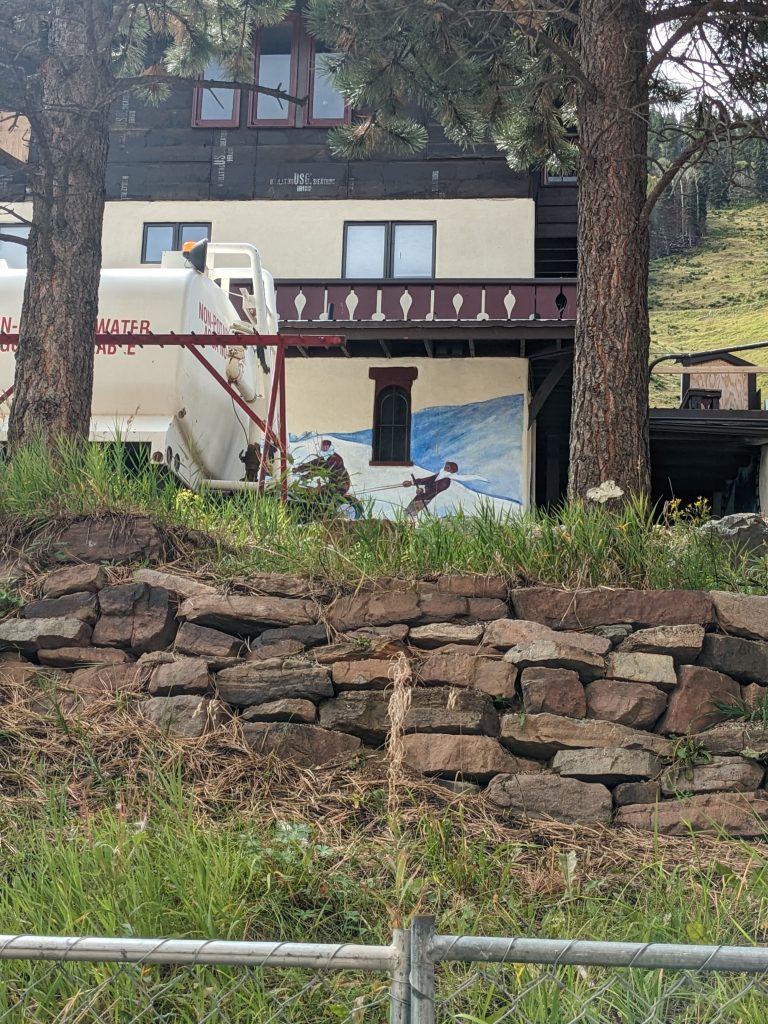 Joseph Campbell advises us to, "LIVE JOYFULLY IN THE SORROWS OF THE WORLD."
40 years ago in August 1982, I was pregnant with Andy's and my first child. We came to Taos for the first time to explore the idea of birthing our baby in Taos, with the expert help of midwives, Tish and Elizabeth and their apprentices.
We liked them so much that we were considering coming back in our camper home in December when our baby was due. We chose to explore the area further and drove up to Taos Ski Valley to see if the mountain was one we'd be interested in skiing. Skiing was our way of life. We'd spent many winters in Aspen, Telluride and Jackson Hole, living in our camper and skiing every day. We lived as simply as possible on the money we'd saved from selling our bronze jewelry at art shows the previous season.
On this day in August we drove our camper up to the ski valley and parked in one of the lots, donned our running shoes and headed towards what looked like a pretty steep mountain face. We planned to run to the top of what we could see and check out the rest of the mountain from there. It was pretty empty as we approached the snow cat road where we'd run.
An accented voice called out to us and a bright eyed, lively, muscular man ran over towards us saying, "Good morning, what are you doing here?"
It was Jean. He was up early working on his building, Hotel St. Bernard. He had power tools out and was doing repairs and maybe some construction on parts of the building and he was by himself. He noticed my pregnant belly and smiled with approval that I was being athletic and waved us on to our running challenge as he turned back to his work.
We had NO IDEA who Jean was, as an iconic person in the ski area that we were considering might be our new home. He had made us feel welcome and was the first face we saw and the only one we encountered. We did run to the top of what we discovered was called Al's Run. We liked what we saw at the top and our baby, Brendan, was born in our camper in the midwifery parking lot on December 6th. Taos Ski valley became the place we raised our kids to ski and a homeplace for our family.
Jean Mayer became known to us as the very special human being, ski coach, hotel and restaurant owner, and exemplary employer to many people. He was the all around spirit of the mountain.
Hotel St. Bernard is now scheduled to be torn down and a new and, we are told, improved building is to be built on it's footprint. The photo I took yesterday is a piece of the building still standing with a mural of a skier being towed up the mountain and the construction fence and a truck blocking access to what is now a destruction zone.
There is a lot of sadness at the idea of ending this era of Taos Ski Valley's history. Jean has passed on and many of our special ski valley "pioneers" have as well.
The sorrow of losing the structure where many magnificent times occurred is real.
My personal view is that none of that magic is ever really lost. If I can be joyful and also feel the sorrow of a situation, than I can be part of keeping the spirit that Jean embodied alive in me and in the place where I also live.
Yes, the timbers, framing and walls, will be different but I will not turn my head away this year when that building is gone and I am getting on the lift. I will be looking for that sense of welcome and that spirit of adventure that we were met with 40 years ago in a fortuitous encounter with an extraordinary man. I know I will feel it.