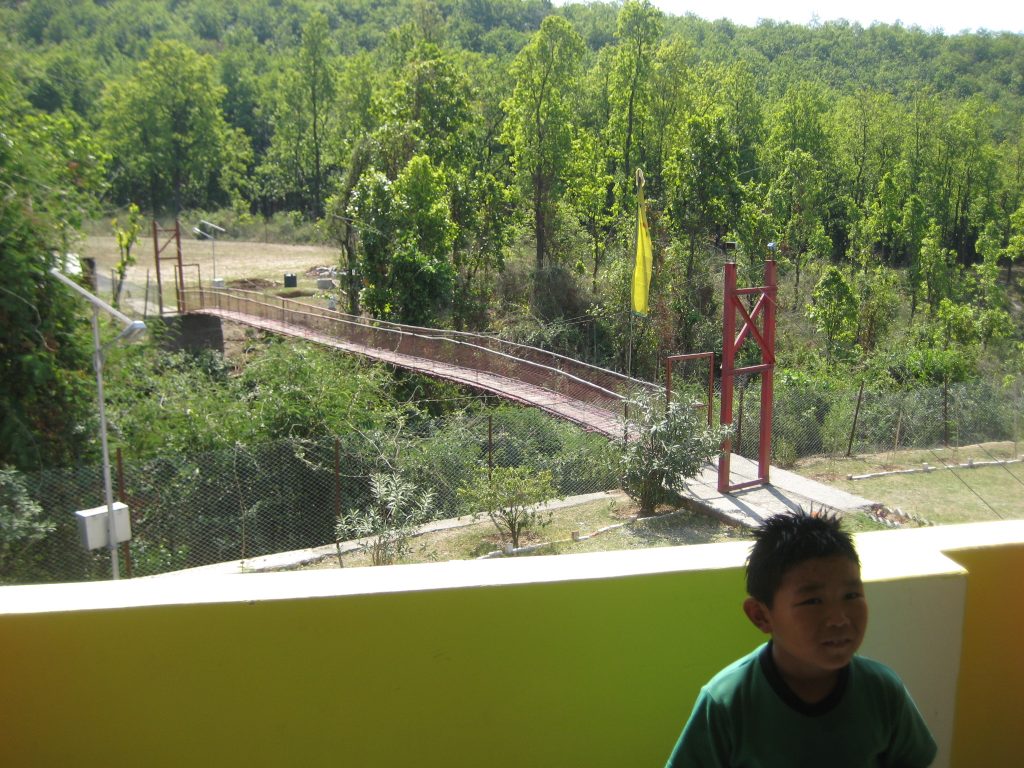 Andy was asked to design and build a 120 foot long suspension bridge, with a team of men who worked at the orphanage.
Jackson Browne sings in Fountain of Sorrow, "And while the future's there for anyone to change, still you know it seems, it would be easier sometimes to change the past."
I couldn't really fathom that we had lost the life Andy and I had built. For awhile, I carried on without Andy; making jewelry, being in touch with family and friends, running and skiing by myself and caring for Andy's needs as they came up.
The seismic loss was beyond my ability to ken.
"Ken" is a Scottish word for "know" but I use it as a deeper meaning of know. I knew the disease Andy had was incurable, got worse as time marched on, and had no great prognosis. I knew but I didn't fully ken–or deeply believe and accept the far reaching tentacles of that truth.
Like the lyric in the song, "The future's there for anyone to change…"
Somehow I had to let go of the idea that I could have again what we had before Parkinson's. I could see that and believed that but had no idea how to do that.
Being sad about our losses and always longing for the time before Parkinson's, effectively locked me out from peace in the present circumstances AND from a future I looked forward to.
Then, I met the happiest most hopeful group of children, who lived in an orphanage in India.
We packed up and traveled to India, Parkinson's and all, and we volunteered for two months, working with children, ages 3-10.
They saved us.
Every morning we'd hear their childish laughter and singing as they worked in the gardens before breakfast. Alana and I taught school each day and in my classroom the "babies" ages 3-6, brought me back to life. They were naughty as they tested me, not paying attention and talking among themselves, as I struggled to keep order. At first new teachers were not trusted because they came and went so quickly, but we were staying for 2 months, not 2 weeks.
Parkinson's had no chance of stopping the men and children from loving and appreciating Andy.
The children's entire worldly belongings included a bunk bed, a pair of shoes, a set of school clothes, a set of play clothes, and a toothbrush each. They adopted each other as family.
Alana and I implemented a program taking 3-4 kids at a time into town for an adventure. It took awhile to give all 60 kids a turn. They had never been to town and being together this way, riding in crowded jeeps and tuk tuks, walking the 5 blocks of shops and purchasing a snack before returning home, bound us together. We were accepted as part of their lives.
Somewhere in the service we gave, our own futures became bright.
Going to India was a big risk. Consigning ourselves to service and work when everyone else we knew with Parkinson's were trying to find ways to be more comfortable at home, was not only an unconventional choice, but could have been disastrous.
The way we accepted what was no longer possible in our lives was to throw ourselves into an even more unknown possibility than Parkinson's presented.
In doing so, the losses in a life with Parkinson's paled as the gains of a life of adventure, that included Parkinson's, was born.